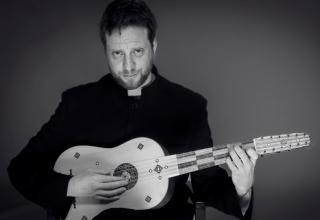 Ariel Abramovich was born in Buenos Aires (Argentina) in 1976.
He started playing the guitar at a young age, inspired by rock music - particularly by the work of musicians such as Jimmy Page (Led Zeppelin) and Jimi Hendrix. With teachers Norberto Pedreira and Quique Sinesi, Ariel discovered a passion for jazz and Latin American popular music, while continuing to expand his musical universe.
The great impact American guitarist Ralph Towner made on him sparked his interest in the classical guitar. He then went to study with José Luis Merlin to begin with and later on with Miguel de Olaso. It was Miguel de Olaso who introduced him to the study of Renaissance music.
When he was still a teenager, Ariel was so dazzled by a fantasy by Luys de Narváez that he decided to devote his career exclusively to the 16th Century repertoire for lute and vihuela. He then started to study these instruments with Dolores Costoyas and Eduardo Egüez, also taking courses with Paul O'Dette and Hopkinson Smith both in Argentina and Europe.
In 1996 Ariel moved to Basel, Switzerland for regular lute and vihuela studies with Hopkinson Smith at the Schola Cantorum Basiliensis, where he also had the chance to attend courses with Crawford Young, Dominique Vellard and Anthony Rooley. Years later he met Eugène Ferré and took lessons with him in France, which provided him with a renewed vision of technique and interpretation. In 1998, together with José Hernández-Pastor, Ariel formed "El Cortesano", a musical project focused on the wonderful repertoire for the Spanish vihuela. The duo have performed extensively around the globe for 15 consecutive years. In 2001 they recorded the first ever album solely devoted to Valladolid vihuela composer Estevan Daça, which was released in 2002 by prestigious French label Arcana. In 2008 they recorded a second album devoted to another unfairly avoided vihuelista, Salamanca-born Diego Pisador, which was released in 2009 by German label Carpe Diem.
In 2008 he undertook a new duo project with British tenor John Potter, a leading voice in the world of historical music. Ariel and John revisit the English repertoire for voice and lute of the late 16th and early 17th Centuries. They have performed various programs in numerous concerts around Europe. In 2011 they recorded their first album together for the legendary German label ECM. Due to be released in 2015, it consists of original adaptations of Renaissance voice polyphony. In 2015 ECM will also release their album "Amores Pasados", for which musicians like Tony Banks (Genesis), Sting and John Paul Jones (Led Zeppelin) contributed material so far unpublished and / or written especially for this project.  Ariel and John are currently preparing new recording projects along with attractive and innovative programs.
In 2013, he formed the duo "Armonía Concertada" with soprano Maria Cristina Kiehr,a project dedicated to the 16th Century Italian and Iberian repertoire for voice and plucked strings. They have toured several continents and prepare to record a first album.
Together with Jacob Heringman, who also specialises in Renaissance music, Ariel shares a project devoted to lute and harp intabulations. In 2014 they recorded the album "Cifras Imaginarias", of music for two vihuelas, which is due to be released shortly.
Over the years, Ariel has performed with international artists such as Scandinavian soprano Anna Maria Friman, Spanish organist Andrés Cea, French lutenist Eugene Ferré, Argentinean lutenist Evangelina Mascardi, flutist and conductor German Michael Form, and Brazilian flutist Rodrigo Calveyra, among others.
As a teacher, he has been offering masterclasses at conservatories and educational institutions in Spain, Germany, Brazil, Argentina, the US, the Czech Republic, Ecuador, Uruguay, and other countries.