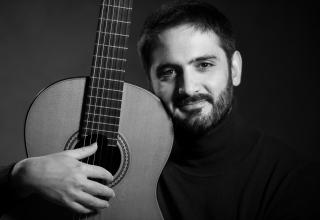 Carlo Curatolo studied classical guitar under the guidance of Pino Forresu at Conservatory of Taranto (Italy), where he graduated with full marks in 2010.
He continued his musical studies with Stefano Palamidessi in Rome and during these years he also achieved a Master's Degree in Physics at Sapienza University. He attended advanced interpretation classes at Segovia Guitar Academy in Pordenone with Paolo Pegoraro and Adriano del Sal, and at Accademia Chigiana in Siena with Oscar Ghiglia. He concluded with honors a postgraduate specialization course at the Conservatory of Parma, held by Lorenzo Micheli, Stefano Grondona, Giampaolo Bandini, among others. He also attended separate master classes with Carlo Domeniconi, Judicael Perroy, Jorge Cardoso, Leo Brouwer, Carlo Marchione.
He has been awarded as first, second or third prize in more than 30 international competitions, among which London, Bratislava, Tallinn, Gorizia, Parma, Camogli, Gargnano, Enschede. In very recent times he gained the first prize at the International Guitar Competitions of Mottola (Italy), Seville (Spain), Viseu (Portugal), Koblenz (Germany) and received the Premio Nazionale delle Arti (National Arts Award) from the Italian Ministry of Education. He's been selected to participate as EuroStrings Artist to the the project EuroStrings - European Guitar Festival Collaborative for the year 2020.
On October 2020 his debut album Eroica Italiana, distributed by Contrastes Records and produced by Universal Music Spain, was released and received excellent reviews in international magazines (including Gendai Guitar, DotGuitar, Il Fronimo, Guitart). This first work is dedicated to Italian composers who have given prestige to the form of the Sonata.
Since 2006 he has been invited to perform in several cultural events as soloist, even with orchestra (Conservatory of Parma). He held solo recitals in Italy, Austria, Portugal, Estonia, Finland, Spain, United Kingdom, Slovakia, Hungary, Bosnia–Herzegovina, Japan. He combines his performing career with his well-attended teaching profession at Conservatory of Monopoli (italy).
Carlo Curatolo is a D'Addario Artist and plays a guitar made by Mirko Migliorini (Lecco, Italy).