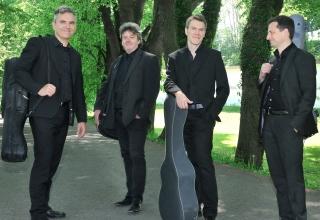 Colin Cooper of Classical Guitar Magazine, London, describes Guitar4mation with words: "A sound that varies between silk and velvet, seductive phrasing, a rapport that makes them sound almost like one instrument,..."
Over the course of 25 years, Guitar4mation's international team has been setting new standards of guitar ensemble playing. Abandoning the hierarchic structure of typical string ensembles with their strict division of leading and supporting parts, the group has found new ways of performing and interpreting music that have received unaninmous acclaim throughout Europe, from audiences and critics alike.
The four musicians use their individual strengths and experiences to create their own, custom made arrangements of the romantic, impressionistic and Spanish piano repertoire, as well as contemporary and Latin American music. In addition to this, the ensemble also performs works written especially for them. Since 1996, four CDs have been receiving enthusiastic reviews from critics all over the world. 
Martin Schwarz (Austria) creates most of the group's arrangements which define Guitar4mation's unique style. He also shares his rich experience as a chamber musician at the Anton Bruckner University of Linz where he teaches his own guitar class.
Michał Nagy (Poland) is a professor at the music academy of Krakow, a sought after chamber music partner of many distinguished musicians (A. Savall, A. Krupa) and a popular teacher at international festivals.
Petr Saidl (Czech Republic) is one of the most successful guitar teachers in Europe. His workplaces are the conservatory of Pardubice and the Academy of Music in Prague. Because of his great experience, he is often invited to international guitar festivals and competitions.
Martin Wesely (Austria) is at home in various musical fields and always on the lookout for new artistic challenges for the acoustic guitar, crossing styles at will in his creative chamber music and band projects.