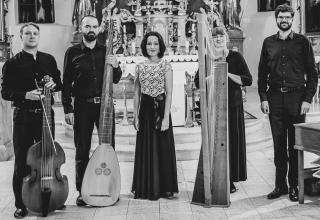 Le nuove musiche is a baroque ensemble founded in 2016 and mainly dedicated to the interpretation of early Italian baroque. Le nuove musiche translates as New Music, and bringing the unknown, or new music, is Le nuove musiche's goal.
The musicians use originals or historical copies of baroque instruments to interpret the compositions, which are often modern premieres.
The ensemble's cast is absolutely unique, according to the demands of Baroque composers. The chitarrone, baroque guitar, arpa doppia, arcilutna, viola da gamba and baroque violin are used extensively. Le nuove musiche therefore brings out the original colours and moods of early 17th century music.
Le nuove musiche has given numerous concerts at home and abroad. In 2017 Le nuove musiche performed at a festival in Poland and in 2018 toured Germany and also Poland. The ensemble regularly performs in Slovakia.
The artistic director of the ensemble is Jakub Mitrík.
Jakub Mitrík (1987) was born in Spišská Nová Ves (SR) and studied classical guitar in Bratislava with Jozef Zsapka and Martin Krajčo.
After his successful studies he focused on historical instruments like theorbo, baroque lute, baroque guitar, archlute. He studied in Brno under Jan Čižmář and in Bremen with Joachim Held. In 2014 he was a member of the summer masterclass with Paul O´dette. In the year 2018 he finished his Master degree in Bremen – Germany.
He plays the eight string romantic guitar from the early 19th century and in chamber music he present the originally music of romanticism from Vienna and Pressburg – Bratislava.
He plays solos as well as continuo music with many important ensembles like: Bach consort – Wien, Musica aeterna, Solamente naturali, Il Cuore Barocco, Bremer Ratsmuziker etc. He is also the artistic director of Le nuove musiche and they concern on the early italian baroque music as well.
He is the leader of "Le nuove musiche", an ensemble dedicated to the research and performance of early Baroque works.