Date:
Saturday, 4 September, 2021 - 17:00
Place:
Garden of Albrecht House, Kapitulská street 1
The young generation of the Slovak guitar school will perform at the afternoon concert. This time the students of the J. L. Bella Conservatory in Banská Bystrica - the winners of the Slovak Conservatory Competition 2021 Karolína Kantorová and Štefan Gazdík.
PROGRAMME:
Ján Králik: Pieces X, VII, V (from the cycle XII Pieces for guitar)
Leo Brouwer: Variations On A Theme by Django Reinhardt
Johann Sebastian Bach: Preludium a Presto, Gigue 
Štepán Rak: Temptation  of the Renaissance
Mario Castelnuovo-Tedesco: Capricho č. 18 - El Sueño de la Razón Produce Monstruos
Agustín Barrios Mangoré: Las Abejas
TICKETS - FREE ENTRY!
Karolína Kantorová was a pupil of Adam Marec at the Conservatory in Banská Bystrica, from where she has graduated this year. She started to play the guitar as a six-year-old girl with the teacher Valéria Ferčáková and later Ján Králik. During her studies she successfully participated in performing competitions and master courses of prestigious performers such as Pavel Steidl, Marcin Dylla, Anabel Montesinos, Alberto Mesirca and others. Her current successes include the second prize in the IInd category at the Competition of Students of Slovak Conservatories 2021. In the next academic year she will become a student of the Academy of Arts in Banská Bystrica.
The performing career of the young gifted guitarist Štefan Gazdík started at the Primary Arts School in Nová Baňa, where his teacher was Ondrej Konečný. He is currently attending the Ján Levoslav Bella Conservatory, where he is a pupil of Jozef Vohár. He has taken part in master classes of many significant guitar virtuosos: Lukáš Sommer, Alberto Mesirca, Antal Pusztai, Ján Labant and Marcin Dylla. He was awarded at many performing competitions, e. g. 1st prize at the International Competition of Ivan Ballo Festival in Dolný Kubín (2019), 3rd prize at the Katowice International Guitar Competition, Poland (2021) and 1st prize and a title of laureate at the Competition of the Students of Slovak Conservatories (2021).
In case of inclement weather, the concert will be held in the Klarisky Concert Hall.
All events will be implemented in accordance with current pandemic measures of the Public Health Office of the Slovak Republic.
The programme and performers may be subject to change!
Garden of Albrechts' House, Kapitulská street 1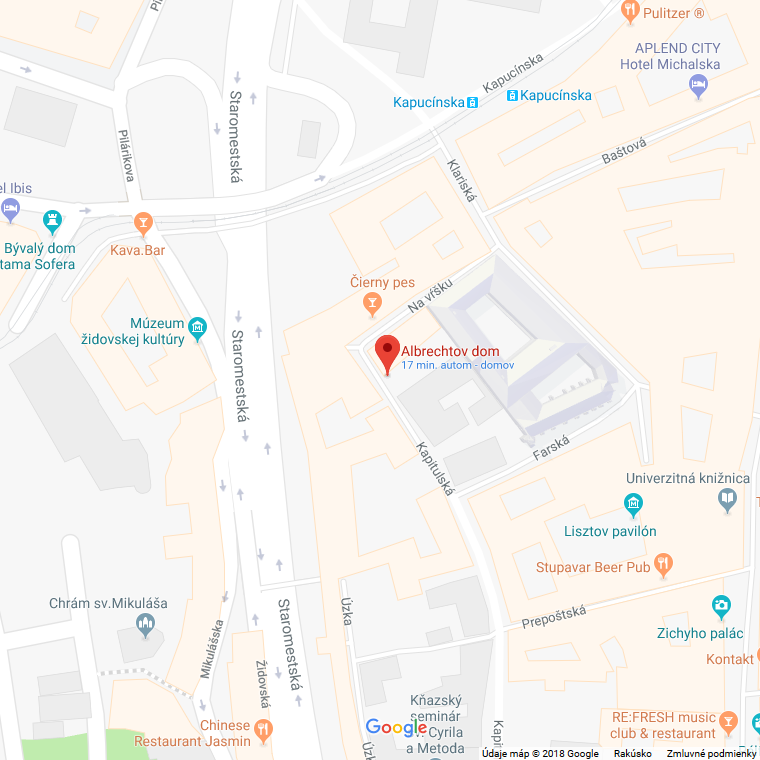 Klarisky Concert Hall